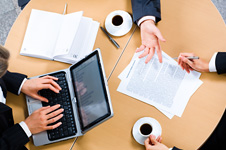 Global Maintenance Resources is a quality leader in the building maintenance industry. The company's goal from it's beginning in 2001 was to provide the best possible service by working closely with our clients and leveraging technology to quickly, effectively, and efficiently satisfy all of their building maintenance needs.
Since its inception, Global Maintenance Resources has enjoyed very healthy revenue growth in each year of operation. This growth was, and continues to be fueled largely through customer retention and word of mouth advertising.
Despite its growth, Global Maintenance Resources remains optimally sized for providing its clients with the best service and value for their building maintenance dollar. The company has access to the resources necessary to efficiently and effectively satisfy client's requirements and fluctuating demands yet remains small enough to allow it to respond quickly and effectively to client needs. The firm's leaner management structure and lower overhead relative to larger competitors allows it to offer more for their client's building maintenance dollar. As a result, Global Maintenance has successfully taken over and retained accounts from some of the nation's largest building maintenance companies. Consistently the feedback from these customers is that Global Maintenance responds faster and more effectively than our larger competitors.
Global Maintenance Resources benefits from excellent employee retention as compared to the industry average. We accomplish this by properly training our staff so they are working smarter, not harder, recognizing and rewarding good performance, and treating them with respect.
Our Values
Global Maintenance Resources has never wavered from its original goal. The company has always, and will continue to provide superior customer at fair, competitive pricing by working closely with all of its clients and leveraging technology and industry best practices.